NB! Please note this is a previously owned unit! We will supply a 1.8m Furutech power cable free of charge.
Has been modified with the following tubes and fuses:
If matched with Cary SLP-98 inline Preamp
Combo will be sold for R78 000.00 including a pair of balance cables and speaker cables free of charge!
HIFI tuning fuses
12 x RUBY KT-88 Cryogenically treated tubes
12 x Russian Tung-Sol KT120 Cryogenically treated tubes.
2 sets of EL 84 valve tubes
2 sets of "6922" Russian & Czech valves
According to Cary Audio designer Dennis Had in this amplifier's documentation, "Countless hours were spent designing and voicing the CAD-280SA V12 stereo amplifier...It delivers high performance in a combination of class-A single-ended triode and true balanced push-pull technology."
image: https://www.stereophile.com/images/archivesart/601carypic1.jpg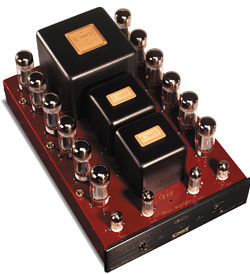 Whew, I thought to myself. Push-pull. Thank goodness—it oughta measure pretty well. I read on.
"The new V12 is created by a stunning combination of the world-famous CAD-805 soundstage, the glorious midrange of the CAD-300-SE, and the supercharged power of the CAD-211-Ms."
Never above a little high-minded self-promotion, eh, Mr. Had?
"The V12 is designed with a fresh and uncompromising push-pull circuit in every criterion. In reality, think of the V12 as four single-ended class-A amplifiers operating in a combined balanced configuration."
In reality, think of John Atkinson having to measure four separate amplifiers instead of one! Heh-heh...In case you were wondering, all four amps on this stereo chassis operate without any form of negative feedback.
"Another design criterion was to utilize only modestly priced vacuum tubes available from multiple tube manufacturing sources. For those of you not aware, I am a triode-crazed audiophile."
I wondered who might not be aware of that by now.
"Do EL34s or KT88s have any merit? They sure do! Simply take a look at their curves when connected in the triode mode. Looks similar to the good old 300B or 2A3. Even the 6L6 looks like a great tube when run in triode configuration."

Read more at https://www.stereophile.com/tubepoweramps/601cary/index.html#ilho3mtEdKJzzJbO.99