The exaSound e12 DAC is a stylish, small form factor component designed to address the explosion of file–based high resolution audio (HRA) playback. As with the e22 and e28, exclusive drivers developed in-house, galvanic isolation and the proprietary ZeroJitter™ asynchronous USB interface endows the e12 with what it takes to compete with the best sounding DACs on the market today.
The premium 8 channel, 32 bit ES9018S reference DAC chip from ESS Technology is configured in the e12 as a stereo converter, with four internal DAC channels per left/right side. By utilizing the channels in a parallel topology, conversion monotonicity is improved and noise is reduced.
The e12 was created to natively support DSD64 (1x), DSD128 (2x) and DSD256 (4x), along with a maximum PCM sampling rate of 384 kHz at 32 bits. Though able to handle all contemporary high resolution formats, exceptional results are also obtained when the e12 is used with "Red Book" CD–quality files.
The native high sampling rate support accommodates software up–sampling to 384 kHz or DSD256, for a more euphonious presentation.
New software features in the driver include auto start, auto–power down, and a maximum volume limiter. The limiter allows the e12 to directly drive a power amplifier while protecting loudspeakers from overloads.
A total of seven linear power conditioning stages insure that noise does not compromise transparency, while a tightly controlled, 0.13 ps master clock and triple oscillators architecture minimizes time–smearing jitter artifacts. Further noise immunity is provided by galvanic isolation between the proprietary asynchronous USB ZeroJitter™ Interface and the downstream audio conversion circuitry, eliminating ground loops while blocking interference generated by computer connections.
exaSound DACs - features overview
Compare the specifications and pricing of the DACs
E12 MEASUREMENTS
FFT Spectrum at 0dBFS
FFT (Fast Fourier Transform) spectrum of 1 KHz, 0 dBFS (2 Vrms) signal. The harmonic distortion of the 2nd harmonic at -126 dB (0.00005 %), followed by the 3rd harmonic at -127 dB (0.00004%). The higher harmonics are around -130 dB or lower. Also, note that the power line related noise (60Hz and its harmonics) is below -144 dB (0.000006%).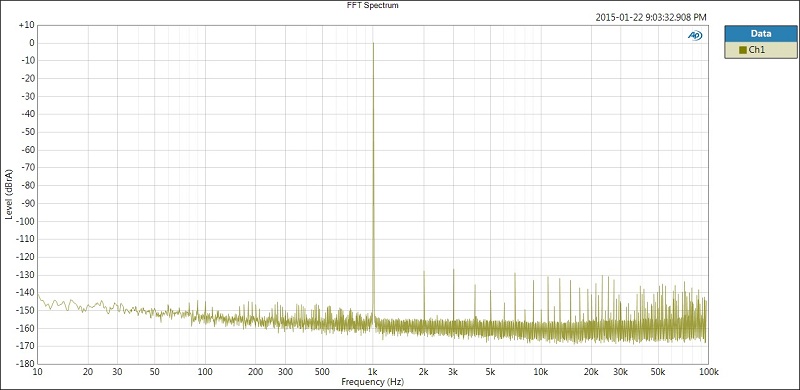 Intermodulation Distortion (IMD)
IMD 19K+20KHz @ 0 dBFS (2 Vrms). The 2nd order difference product appears at 1 KHz and is about -128dB (0.00004%). The 3rd order IMD products produce symmetrical sidebands around 19K/20KHz and are below-124dB.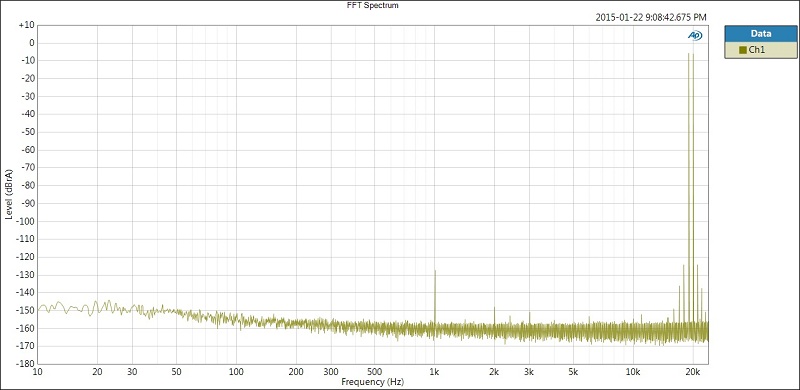 THD + N Ratio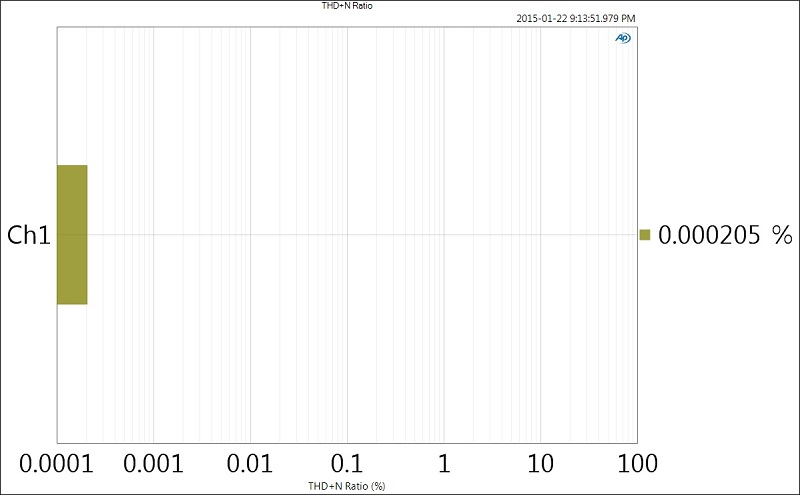 Jitter
FFT spectrum (1024K points averaged 4 times) of 11.025 KHz signal at 44.1KHz sampling rate. This measurement exposes the smallest periodic jitters, which would appear as sidebands symmetrically located around the signal. The FFT spectrum is extremely clean, with all the artefacts around -153 dB. Only one clearly defined jitter-related double sideband is visible, located +/- 1KHz from the signal at -153 dBFS.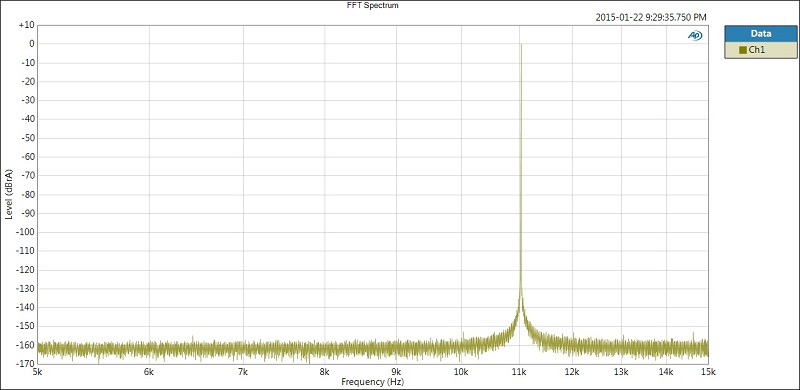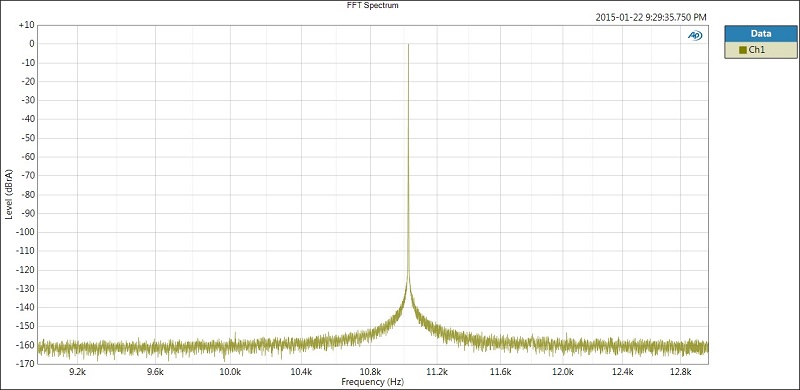 Noise Floor with USB Galvanic Isolation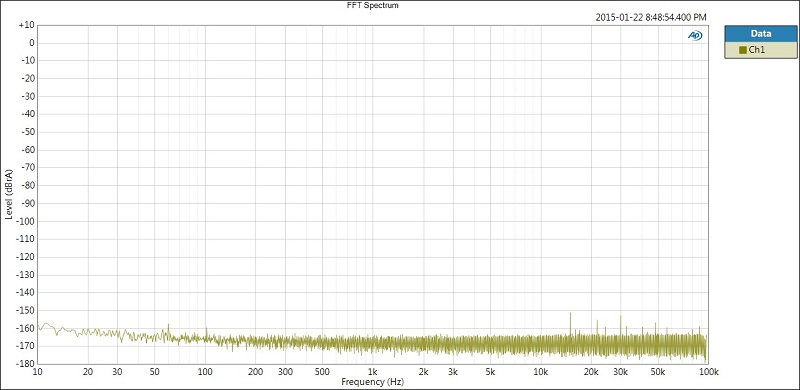 FFT spectrum (1024K points averaged 8 times) showing the noise floor measured on the e12 DAC RCA line outputs. The e12 DAC is connected with a standard USB cable to a low-cost desktop PC. The noise floor is extremely clean. There are no visible traces from the computer high-frequency noise usually transmitted via the USB connection. The power line related noise (60Hz and its harmonics) is below -157 dB (0.0000014%).
Noise Floor without USB Galvanic Isolation
For comparison, the same measurement is taken without Galvanic ground isolation. The noise level is increased by 30dB. This experiment clearly shows the benefits of using Galvanic isolation.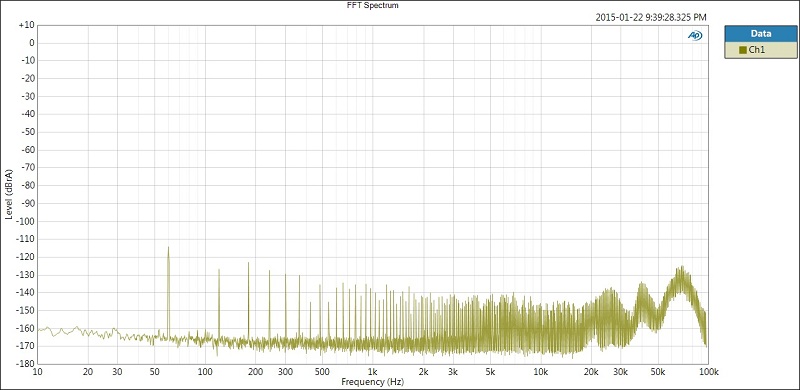 All measurements are performed with the Audio Precision APx525 system, with the line outputs of the e12 DAC terminated with 100KOhms resistors. FFTs are 1024K points, averaged 8 times.